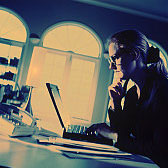 I was bloghopping earlier today when I read about an article written by a blogger friend, Mae, who claims that one of her posts was published in toto on another site. She plans to file a case against the other blogger.
Mae was given credit in the article but she claims that she was not contacted by the other blogger and she didn't give anyone permission to publish her articles word-for-word.
Do you think this kind of a legal case will prosper? Is it even feasible? If you were Mae, what would you do?