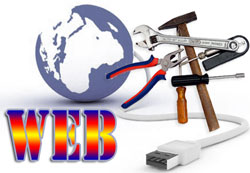 Some bloggers and webmasters think that search engine optimization is too technical and can be overwhelmed just by the thought of it.
This shouldn't be the case.
If you just try to be resourceful, you'll learn that search engine sites like Google, Bing and Yahoo offer webmaster tools and resources to help you make your site rank higher in search results.
Google, for example, has a webmaster guidelines that gives suggestions that you can implement to make Google find, index and rank your site. These guidelines are broken down into three categories: design and content guidelines, technical guidelines and quality guidelines. In this article, I'll be focusing on the first one.
Google Webmaster Tools Design and Content Guidelines
Search engine optimization and web design shouldn't clash. In designing your site, you should take note of the following in order to optimize your site for search engines:
Clear hierarchy and text links – Search engine robots crawl your site like a spider. With a clear hierarchy and text links, it would be easier for these spiders to visit every page of your site. Be sure to make each page reachable from at least one static text link (or it might not be discovered).
Site Map – Site maps with links that point to the important parts of your site helps not only search engine spiders from crawling your site. It also aids your readers in viewing the topics that you're discussing on your site. Try to break the site map into multiple pages if it has an extremely large number of links
Reasonable Number of Links – Try to keep the links on a given page to a reasonable number. You don't want to risk your site to being labeled as a spam blog, don't you?
Content – Search engine spiders and your readers both love an information-rich site. Accurate, informative, useful and clearly written content is good, not only for SEO but for your readers, as well.
Keywords – Use the words that users would type to find your pages – but be wary about keyword stuffing.
Text for textual content – Since Google crawler can't recognize text contained in images, try to use text instead of images to display important names, links or content. If this is unavoidable, use the "ALT" attribute to add descriptive text.
< title > and ALT – Make sure that when you are using < titlee> elements and ALT attributes, they add value to your content. Be as descriptive and accurate as possible.
Links and HTML – You should constantly check for broken links and correct HTML. If you're a WordPress user, you can use a broken link checker plug-in to automatically monitor your site for broken links.
Dynamic Pages – Not all search engine spiders can crawl URLs that contain a "?" character as well as static pages so try to avoid it as much as possible. Also, try to keep the parameters short and the number of them few.
Have you been complying with the above mentioned guidelines in your web design and content? What specific guideline do you wish to employ in your blog this year?