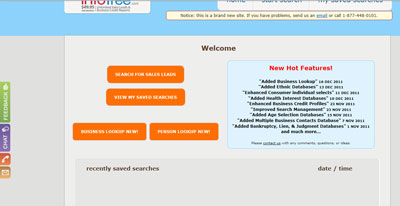 This post brought to you by InfoFree. All opinions are 100% mine.
If you're into business – whether for products or services, you probably know how important it is to have sales leads. Well, there's this site that will give you unlimited sales leads and mailing list for a very low monthly price of $49.95. Membership is not a yearly contract and can be cancelled at anytime.
With over 50 databases to choose from, you can do unlimited search, select, view and download of sales leads. You can also create unlimited business credit profiles, unlimited view and print of emails and see prospects on a map.
Business owners can benefit from Infofree as well as small business owners, entrepreneurs, insurance agents, real estate agents, contractors, attorneys, wholesalers/distributors, physicians, accountants, manufacturers, non-profit organizations and professionals.
I tried creating my own profile on the site and here's the dashboard:
I find it easy to find the sales leads that I wanted because sales leads search are categorized as to business sales leads, consumer and homeowner sales leads and hot sales leads. The first two categories are probably self-explanatory but the hot sales leads mean information like new businesses, new parents, recently married, recently divorced, new homeowners and those kind of stuff.
You can also sign up for this free 24-hour trial at infofree. Don't forget to share how it worked out for you.