Remember all those cassette tapes, betamax, VHS and all those other storage media which are not really digital in nature? If you still keep any those things to store all those treasured memories, there's no better time to turn them into digital but now.
A few more decades (or just years) from now, all those equipment that will be necessary to read or use the information on cassette tapes, betamax and VHS will be obsolete, rare and expensive. By that time, it will be very costly to view everything that you've stored there – much more to access or retrieve them.
If you have videos, photos and films that you want to turn into digital, you can do a quick search on the internet of sites that offer photo scanning services and film and video transfers.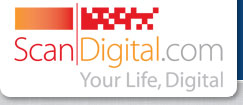 I came across a site that offers these services online, Scan Digital. It's so easy to have your memories turned into digital. You just need to place an order online and then send them the photos, film or video. They will then do the rest of the prepping, cleaning and converting your memories into digital copies which you can save on your hard drive, DVDs or other digital storage media – or even upload online! Don't worry, they will be returning the originals along with the digital copy.
Turn your memories into digital. And as I've said, there's no better time than now. Agree?