Friends, I'd like to introduce you to the latest offering from StudioPress, the Innov8tive Theme for WordPress (click image for theme demo):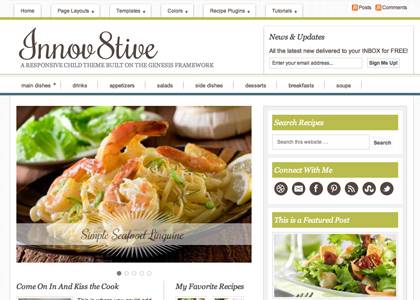 The Innov8tive theme for WordPress allows you to become innovative in how you display your content to both your mobile and desktop readers. It offers 3 color combinations that highlight your content and presents a beautiful, clean, fresh looking home page that your readers will want to come back to again and again. This is also a mobile responsive theme that additionally has a third custom menu designed specifically for you to tailor to the mobile user.
Special features: 3 color styles, 6 layout options, custom background, custom header, custom menus, featured images, fixed width, mobile responsive, theme options, threaded comments.
Note: There are some sites that offer some free download of Innov8tive Theme and Genesis theme but don't be fooled (for these sites usually inject some codes into the theme files). Buy directly from StudioPress Themes to make sure that you have a legit file – plus unlimited updates and support too!
Checkout the Innov8tive Theme for WordPress now. Don't worry, viewing the theme demo is for free!