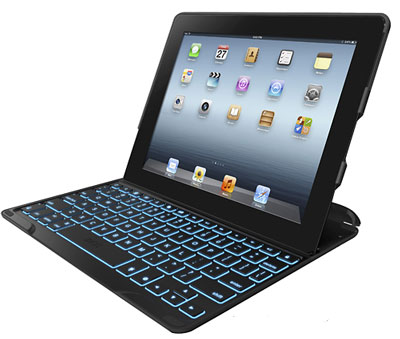 Are you blogging from your iPad? Normally, it is a bit inconvenient to create posts when you're using the iPad because the letter keys take much of the screen however, I had learned that using a keyboard for iPads can increase one's productivity by leaps.
This is the reason why I requested my husband to add a ZAGGKeys PROPlus bluetooth keyboard when he bought me the new iPad with retina display a couple of weeks ago. I read a lot of good reviews on this product and even the sales representative at Best Buy had glowing reviews for this one. We even had to go to another branch of the store to buy the keyboard because they already ran out of stock at the branch near us.
At $129.99, the ZAGGKeys PROPlus bluetooth keyboard is a bit expensive but the extra bucks is worth it. It connects via bluetooth and holds battery for a long time (the first charge lasted about two weeks). I love the feel of the keys and their size is just right for me. The keyboard also has special function keys that make copying, cutting and pasting text a breeze (in addition to other functions, of course). It also provides a perfect fit to the iPad and all its buttons and camera.
This product only comes in black color but has backlights that can change color (there are seven color choices). The backlights have three settings for brightness which allow you to work even in low light conditions. The case is sturdy and protects the iPad well. Closing the case also turns off the iPad to help conserve battery.
This keyboard made blogging, Facebook-ing, chatting, emailing and other applications that need lots of typing easy for me. I wish I could do some blog designs or create web design ecommerce but it's beyond iPad's capability for now.
The ZAGGKeys PROPlus bluetooth keyboard is a great and high quality product. I would recommend this to everyone looking for a keyboard-case for iPad. Definitely a 5-star rating from me!