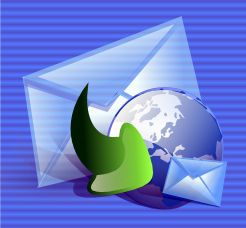 Understanding the different email protocols available is absolutely vital if you wish to make the most of the internet, as knowing which protocols you're using and how to use them most effectively could really help you make the most of your service. The three methods used to handle email are known as IMAP (Internet Message Access Protocol), POP (Post Office Protocol) and SMTP (Simple Mail Transfer Protocol) and they all have their own advantages and disadvantages depending on your specific needs and situation.
Here we'll be examining each and hopefully (in the process) will give those on the fence the information necessary to make an informed decision regarding which email service to use. This is a decision that you might make flippantly, but is actually incredibly important, especially if you'll be using the email service in question to organize a business.
 
Receiving your Email
It isn't particularly difficult to understand how email works, in fact it's really rather simple. When you receive an email, it moves electronically from the sender's email client to their mail server. The server then uses your email address to ascertain where the email needs to go and delivers it to your server.
Think of it in terms of traditional 'snail mail'. The server acts almost like a post office in many respects, with the email client representing your home address. The servers will either be part of a hosting package (or will most likely end in the destination of their own site), will be provided by the user's internet service provider (AOL is a good example here) or will be a paid for, or free 3rd party service (Hotmail and Gmail).
Whether the servers are running from the other side of the world or in the server room beneath your feet is largely inconsequential, the process is always the same' the server stores the mail until the mail client asks to receive it and that's where IMAP and POP protocols enter the fray.
IMAP and POP
The most common methods of receiving email from a mail server, both IMAP and POP are supported by the vast majority of mail client programs including Apple 'Mail' and Microsoft 'Outlook'. The primary differences between the two are that a POP protocol will download the email locally, whereas an IMAP protocol will store the mail on the server to be viewed remotely by the user.
In many regards the IMAP protocol is similar to viewing a website, as the data isn't actually being stored on your device, you're simply using your device as a means to view and manipulate it. POP meanwhile, is more conventional in that the mail is downloaded to your local device. Below we'll examine the positive and negative aspects of both:-
POP
Positives
Because the mail is stored locally, once it's been downloaded, you can access it offline without requiring an internet connection.
It's far easier to maintain mail quotas and to backup and archive emails both locally and off-site.
It's significantly faster as you only need to access the mail from the server once; this also means that searching through mail is much faster. This is particularly helpful if you receive hundreds of emails a day.
Negatives
Accessing email through multiple machines can prove troublesome and workarounds will need to be used.
If your hard drive fails or you suffer some serious computer problems and you don't have a backup, your archived emails might be lost forever.
More difficult to access from anywhere.
IMAP
Positives
As the mail is stored remotely you can access it from anywhere with a stable internet connection.
A copy is kept of everything you do on the mail server, which might be a probable where privacy is concerned but it's undeniably convenient.
Negatives
Takes up a lot of server space, which might lead to users exceeding their quotas.
Slower in reading and searching emails.
More difficult to backup locally and remotely.
If the server or mail account is corrupted, data can be lost.
As you can probably tell, POP protocols are recommended wherever possible as they are generally far more stable.
Sending your email
Regardless of whether you're using a POP or IMAP protocol, you'll be sending your emails using a form of SMTP, which works in a different way to both IMAP and POP.
When you send a message, the client will contact the SMTP server that should be an inbuilt part of your mail service. The server will authenticate you using a password and login id and the messages will be received from your client. The server will then look up the recipient's server and pass the message to that server. Finally you mail client will place the sent email in either your local 'sent' folder (POP) or the sent folder of the server (IMAP).