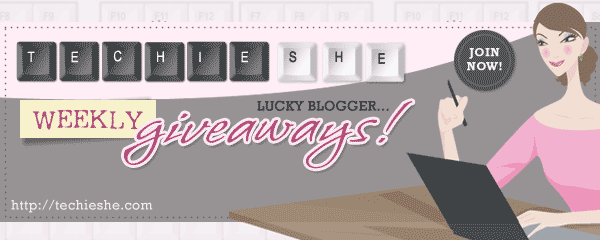 Welcome to Techie She's Lucky Blogger Weekly Giveaways Week No. 1. It's a weekly giveaway and blogging meme rolled into one so you're not only joining in the fun but have a chance to win exciting prizes every week too!
The rules for this blogging meme are quite easy. Every week, there'll be a challenge word (a.k.a. word of the week) and all you have to do is to use that word in your entry. The topic can be about anything so even if you're into niche blogging, there's no reason why you can't join.
Word of Week and Code for Week 1
For week 1 which will run from June 1 to 7, the challenge word is "FUN". To indicate that it's your entry to Techie She's Lucky Blogger Weekly Giveaways Week No. 1, please include this code in the beginning of your post:
Week 1 Prize
This week's prize is one year free blog hosting sponsored by Sheryl of GEORYL (hey, that's me!).
How Do I Submit My Entry?
Please enter the url link of your post/entry below. If you have multiple blogs, you are allowed to join with as many blogs as you can.
Do you want to have more chances of winning? Be one of the first five participants to submit an entry and you immediately get one additional point for your post.
You can also get additional entries for each of the following:
1. Follow Techie She on Twitter
2. Like Techie She on Facebook
3. Subscribe to Techie She via email
4. Follow Georyl on Twitter
5. Subscribe to Georyl via email
6. Join Techie She via Google Friend Connect
7. Join Georyl via Google Friend Connect
Please submit a separate comment for every additional task that you did.
This one is not required but if you want to include the badge, here's the code:
Hope I'm not overloading you with info right now but it would be helpful if you could check out the following for more information about this giveaway (such as the complete rules, announcement of winners, dates and timezones and more):
Hope you enjoy playing and joining Techie She's Lucky Blogger Weekly Giveaways.
Reminder: Please check that your links in the code are working. I'm not sure why but blogs using Blogger show the link to the Week 1 post with blogger.com in the url, resulting to an error. Thanks!

Updates: This contest had already ended. If you want to inquire about ongoing online contests and giveaways, always feel free to contact Techie She.