Welcome to Techie She's Lucky Blogger Weekly Giveaways Week No. 4. It's a weekly giveaway and blogging meme rolled into one so you're not only joining in the fun but you have a chance to win exciting prizes every week too!
Week 4 Prize
This week's prize is one year free blog hosting sponsored by Belleverlasting.
Word of Week and Code for Week 4
This week's challenge word is "WEB." Just use the word "web" in your post and include this code in the beginning of the article to indicate that it's your entry to the Week 4 giveaways.
Submission of Entry
You can join and submit your entries below until June 28, 2011 at 11:59pm PDT.
Other Ways to Earn Points
You could earn one additional points for each of the following extra activities:
Be one of the first five participants to submit their article links
Like JDMaBelleverlasting on Facebook – here
Follow Techie She on Twitter – click here
Like Techie She on Facebook – find the Like box on my sidebar or click here
Subscribe to Techie She via email – click here
Join Techie She via Google Friend Connect – the GFC box is on my sidebar
Please submit a separate comment for every additional task that you did.
This one is not required but if you want to include the badge, here's the code: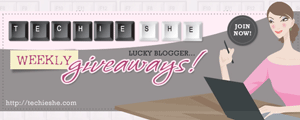 Please take time to visit these links and read more about Techie She's Lucky Blogger Weekly Giveaways
Hope you enjoy playing and joining Techie She's Lucky Blogger Weekly Giveaways.